About
Written by Apnea Thursday, 28 April 2011 12:00
Mision and vision
We aim to provide a decent and free service for the Populous Community. Our project includes a multilingual website, an Open Source Multiplayer Platform, a leagues system, and more mods for Populous. We want to distribute our work under free licenses.
Multilingual website
Continuing with our multilingual tradition, this new website supports three additional languages - German, Portuguese and Spanish. The content of this website is available under the free license of Creative Commons.
Open Source Multiplayer Platform
We believe that Open Source software is the way to guarantee constant and unlimited development; therefore, we are working on a free Multiplayer Platform for Populous. We intend to release this program under Open Source GPL 3 license.
Leagues
Continuing with the work started by TeratO, we want to include ELO (true skill) in the league system for our service. Additionally, we are planning on including an Experience league.
Populous Mods
Continuing with the work started by Alacn, we are working to fix the most critical bugs and to add new functionalities to the game.
Towards the future
Populous was lucky to have within its community people that would devote their time and skills to creating programs for online gaming. Many other games were not as lucky. We intend to extend the functionality of our Multiplayer Platform to support more games in the future. We believe this will promote Populous as well as other games and increase the amount of members in our community.
History
Populous Mana Source started in 2007 as a website for tips for the game only available in Polish language. The service was created by DAroo together with several Polish players, and its first layout was created by Sasha.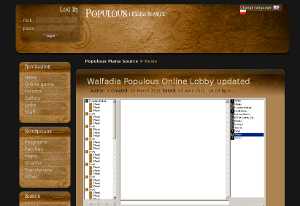 This website turned in 2008 into a bilingual service supporting English as well.
Nowadays, with the release of 2011, the website supports more languages and Populous Mana Source grew not only as a service but also as a community.
Last Updated on Thursday, 28 April 2011 23:47