Craters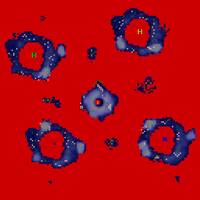 This is with NO forge.
· Red has a different strategy.
· This is not guaranteed to work for everyone. This is just an approach to building and defense that works for me.
· This is just setting up the base and defense, does not go in-depth with attacking.
For blue, yellow, or green:
· At start turn off blast, charge only convert. Place 3 huts near your reincarnation site and put guys to work on them.
· Once you have 18-25 men or have used 4 or 5 convert spells, turn it off and charge Landbridge only.
· Keep building huts; make a guard tower or 2 on the opposite side so that you can access that land. Make a Firewarrior hut.
· Landbridge up to the hill and build a guard tower there. Once you have 3-5 firewarriors use a 2nd Landbridge to connect to Firestorm statue from the hill (check Shakey's map for the location). Place your firewarriors on the hill for defense while you build more towers on the hill (3-5 towers). (take wood from near Firestorm statue or dismantle the guard tower(s) you made to use the other side of your base)
· If your opponent has connected to you charge a lightning or 2 for defense and then resume charging Landbridge.
· Build Preacher and Warrior huts; use 3 or 4 more Landbridge to extend the back of your land.
· Fill your guard towers on your hill with firewarriors and keep extra firewarriors on the hill for defense.
· If your opponent is attacking you, empty braves from the huts closest to your opponent(the ones he/she would get to first) and place 1 or 2 firewarriors in them for extra defense.
· If you have enough wood, build more huts on the extra land you have made for yourself. When you feel your defense is good, charge attack spells. (Earthquake, Tornado, Firestorm)
· Never stop training Firewarriors and always have a lot of them.
For Red:
Basically the same except at beginning landbridge to the firestorm statue from a guard tower instead of landbridging to your hill. You can use the hill later for putting a few guard towers on it. Red requires more skill to get a large population and it also requires a longer period of defending before any major attacking can be done.
General tips
· Never place a hut plan on top of a tree. Fit them in without building over a tree.
· Landbridge in the lava in your base so you can build there. do it before making your base bigger by extending the back.